Sealers and Polishes
Vermont Natural Coatings [Added 12/2014]
Vermont Natural Coatings [Web Site] [Facebook] was suggested by commenter Paul Greve who says: "i make wood toy cars and use milk paint…spraying w/ hvlp gun and also w/ brush. Depending on color/look i want w/ good results. I primarily use a pre mixed from General Finishes as powder has limited shelf life and wholesale orders need to be consistent. I cannot say enough good things about Vermont Natural Coatings as a topcoat which I spray…inside…next to a wood stove."
Beeswax & Oil Polish/Sealer
I tried Amber Dusick's (aka Etsy's Woodmouse) Beeswax Wood Polish recipe and it worked great - but there still is some color coming off, so it's not a perfect seal. I will eventually order some jojoba oil, but in the meantime I've used olive oil and that's been fine. It is true that the beeswax goes a little grainy in the microwave so I may try the double-boiler method next time, but the graininess rubs away when polishing so it's not really any big deal.
Non-Toxic Acrylic Sealers [Added 08/2016]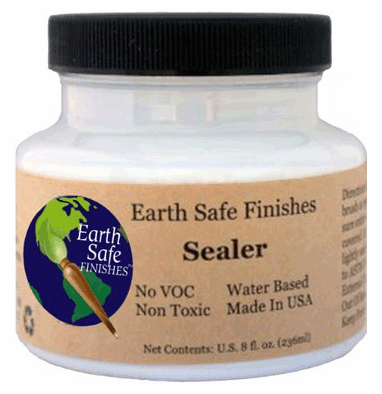 Earth Safe Finishes Sealer is billed as "No voc, water based, non-toxic, acrylic, free of bpa & heavy metals" - this could be a terrific alternative to the beeswax polish above, since it should seal more completely. The beeswax polish still sees some bleed and color coming off on hands & mouths.
Salad Bowl Finish
Behlen Salad Bowl Finish or Clapham's Beeswax Finish - This finish is formulated specifically to be food-grade, hence the name. I've read good things about it, though I haven't tried it.
Butcher Block Finish/Conditioner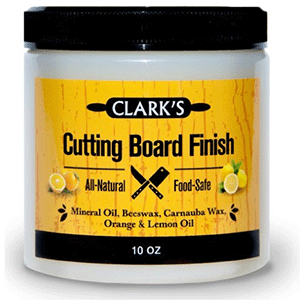 CLARK'S Cutting Board Finish and John Taylor Butcher Block Conditioner Food Grade Mineral Oil and Natural Waxes (among others) - I would imagine that these are very similar to salad bowl finish, but they are separate products. This approach seems like it would also work really well.
Shellac
Shellac is a little weird. It's made from bugs and it's complicated, sticky stuff. Thus I have avoided it, since I have no problem using the beeswax polish listed above. White shellac I believe is bleached, and apparently there can be drying problems if the shellac is older than 6 months. And it is sticky as heck.
Update 12/2014, via email from visitor Richard:
"My name is Richard and I have been making toys for years for my children, grandchildren, great-grand children and for the church's daycare.

First I would like to ease your mind about shellac. Shellac is indeed made from bugs as is #4 red dye and other food ingredients you have been consuming for most of your life. Shellac is FDA approved for use in food. It's definitely no worse than Bees wax.

It is a great sealer for wood and yes it and nearly everything will "raise the grain" which is normal and a light sanding with a 220 grit paper between coats will give you a fine finish. If I am leaving the wood a "natural" finish I use the amber shellac and clear if I'm coloring it.

I add food coloring to the shellac to give it a tint and successive coats will give a darker color.

So there you have it a proven and perfectly safe and edible finish for your toys."
Water-based Polyurethane
Many people claim that water-based poly is non-toxic when cured. JW Etc. is no longer available, but this site claims to have a replacement: Liberty Art Finishes:
Liberty Art permanent acrylic varnish. For use over acrylic or oil based paints. Dries to a soft matte, satin or high gloss varnish. For use on most surfaces. Milky when wet, dries clear. Water-based. Low odor. UV resistant. Non-yellowing. Quick-drying. Indoor and outdoor. Non-toxic. Made in the USA.