Art Paints
Acrylics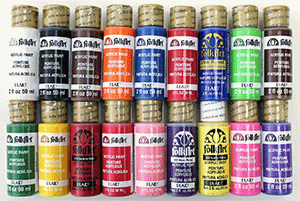 Several acrylic brands are certified as AP Non-Toxic, such as Plaid Folk Art Acrylics, and Martha Stewart has an acrylic line now as well. Acrylics are still plastic, but I believe that there is a fair chance that many of the wooden toys that are made by specialty manufacturers may be painted with acrylics. From ToyDirectory.com, a description of a Holztiger toy:
"HOLZTIGER toys are all handmade and painted with non-toxic, water-based acrylic paints. Every wooden figure has an additional topcoat of satin-finish water paint to make it resistant to perspiration and saliva." (What is "water paint," one wonders)
Artist-grade acrylics may be more likely to be toxic or contain unpleasant ingredients, especially heavy metals. Here is a great overview of artist paint toxicity, written particularly for pregnant painters.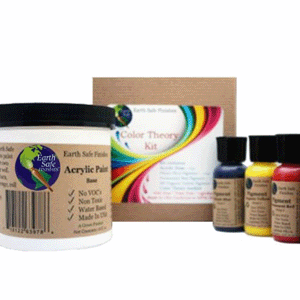 NOTE: Their site tends to be very slow. Here is an Amazon.com link to one of their paint kits. This brand includes acrylics as well as other paints. Their site is pretty bad and I feel like I could use a lot more application-specific information about each kind of paint, but it seems likely that the paints they make would be very safe for toys. That said, this brand is also rather pricey, with the 12-bottle kit of acrylics at $40, plus $5 shipping. If I decide to buy more paint to try, though, this is at the top of the list.
Tempera
Another forum post I read mentioned using powdered tempera paints. Tempera is - as far as I know - quite non-toxic (it's a very popular paint for children), but it is also kind of crummy. It dries to a fairly powdery surface on paper, though it might soak into wood better. Since tempera paint is so cheap I might pick some up to experiment, but as of right now I have not tried it. It seems likely to bleed out through the wood, but perhaps not if the wood is pickled/washed first.
Watercolors
Watercolors, like acrylics, are not non-toxic inherently, but there are plenty of non-toxic watercolors on the market, starting with supermarket Crayolas and moving upwards from there. Again, haven't tried them since I'm trying to find paints that are specifically designated as safe for toys, but I do suspect they'd bleed a lot.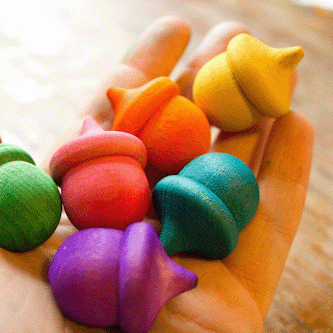 The site "Crafting for a Green World" recently published an article about staining wooden toys using liquid watercolors - of which I am a big fan - and the results look very nice, though I personally would want to seal them. We use Sax brand liquid watercolors to great effect.